Conrad Villas has an extensive listing of homes, resorts, and other types of properties for sale on the beautiful island of Koh Samui. If you're looking to invest in or buy real estate on Koh Samui, you'll be surprised and delighted by the large range of alternatives accessible in its property and vacation villa portfolio.
Although there are more than ten reasons to invest in or buy a villa or property on Koh Samui, Thailand, we've narrowed it down to the top ten for brevity.
You'll especially appreciate their buildings' and residential constructions' affordability or at least cost-effective value, as well as the Caribbean-quality of their coastal panoramas.

Let's dive right in to the top 10 reasons why you should buy or invest in a Koh Samui property in 2023:

1. A Backpacker's Dream Location Turned into a Ritzy Resort Island
When Koh Samui was granted municipality status in 2012, it began self-governing its own infrastructure, amenities, and facilities, vastly increasing its offers.
In addition, being the ultimate backpacker's paradise, Koh Samui attracts travelers from all over the world. It also has branded 5-star hotels, enhanced air links for quicker travel, and a plethora of leisure services and facilities.
Luxury hotel groups such as Hyatt Regency, Conrad Hotels, The Four Seasons, W Hotels, and Ritz-Carlton call the island home.
Rich tourists have been flocking to Koh Samui in recent years, owing to the island's transformation into a legitimate resort destination that can compete with sister island Phuket or even the Caribbean.
Samui Island also has hundreds of independent spa resorts and hotels, numerous shopping complexes, various cinemas, and a championship sea view golf course.
The beautiful island has considerable property development and sophisticated luxury living all wrapped up in one neat investment package.
It also includes a number of hospitals and international schools, making it appealing for residential sales as well. Investors can purchase a villa as either a permanent residence or a vacation house.
Meanwhile, with its jungle settings and white powder sand beaches, the island retains its exotic tropical island allure.

2. Local Building Regulations Save Koh Samui from Overcrowding
Local building rules on Koh Samui constrain development and prohibit firms and people from overdeveloping property, hence protecting the environment. This prevents the island from being overcrowded as a result of overzealous developers.
In some low-density residential regions or zones, for example, the total area of any building (excluding hotels) shall not exceed 2,000 square meters. The maximum height of any construction in the zone is 12 meters.
Bophut, Chaweng Noi, Bangrak, Plai Laem, Cheong Mon, Maenam, Bangpor, Lamai, and Lipa Noi are among the ideal sites on the island for real estate development.
In terms of property categories, pool villas dominate Samui real estate investment. It's also about investors capitalizing on the tropical island setting by creating outdoor living space.
Condominiums are also available on the island, however due to its small and municipal zoning restrictions for condos and apartments, there is a limited supply.
Koh Samui property prices and the average price of a villa have risen as the island has become more gentrified. This includes the ultra-luxurious market category, which now resembles Phuket. Top-tier real estate can be listed for as much as US$8 million or more.
Koh Samui villas provide more island appeal, more inexpensive freehold sea-view possibilities, and longer months of sunshine due to geography.
Because it is a completely constructed slice of paradise, Koh Samui is a good area to look for houses and villas for sale.
3. Koh Samui's Promising Post-COVID Recovery
Investors could also join on the Koh Samui bandwagon, given the island's promising post-COVID rebound. Prior to the pandemic, tourism accounted for 12% of Thailand's GDP. This also influences the country's real estate market.
The revival of Thai property markets following the COVID lockdown and travel ban has been quite strong in resort areas such as Phuket and Koh Samui.
As Chinese borders were reopened in March 2023, tourist numbers have grown significantly from 11.5 million last year to projections of up to 30 million for this year according to Reuters. That's about 75 percent of pre-pandemic tourism.
Tourism-enabled foreign investment is what's bolstering the Thai property market's recovery. In January 2023, 200,000 tourists went to Koh Samui, with most of them ending up in holiday rental villas ranging from middle class to luxury class.
Meanwhile, the worldwide Google search volume for the key phrase "koh samui property for sale" was + 19% according to Google Ads API for April 2023.
The largest numbers of Western tourists (and, in turn, potential real estate buyers) come from Russia (6.5 percent), the UK (3.7 percent), Australia (3.4 percent) and the US (3.1 percent). Around 60 percent of these tourists end up as return visitors to boot.
In 2014, 4.6 million Chinese visitors traveled to Thailand for good measure. They also make up many of the foreign investors in places like Koh Samui.
On the island, there is also an international airport from which passengers can fly directly or indirectly to and from Bangkok and other adjacent countries.
Other factors helping the Koh Samui property market rebound include an increased number of Russian investors looking for a safe haven due to Russia's fragile economy as a result of the Russian-Ukrainian War.
Thailand's government is also encouraging foreign investment by extending Visa program terms for professionals and high-net-worth individuals who can provide monetary value to the country.
Prices for Koh Samui real estate have been reduced, and there are still many excellent deals available.
4. High-Quality Construction Standards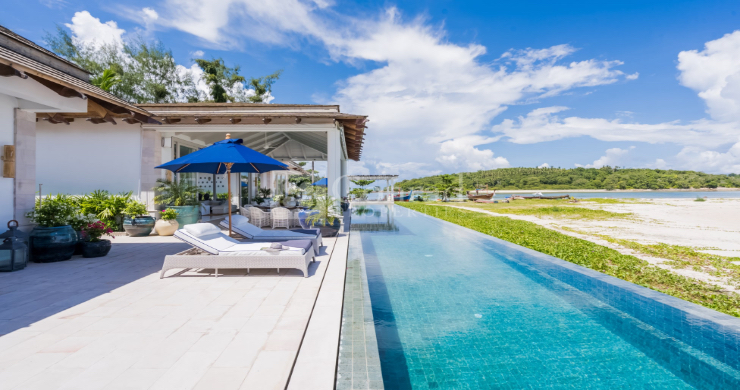 Super Luxury 4 Bed Beachfront Villa in Chaweng Beach​
Speaking of which, Koh Samui homes have the greatest quality building requirements simply because they are currently under construction and adhere to modern construction norms.
These regulations help Koh Samui structures live longer than cheaper materials and questionable architecture. As a real estate investor, it is in your best interest to invest in a well-built home to save future repair costs.
It's all about safeguarding your future peace of mind by purchasing the greatest properties on Koh Samui with high long-term value and upside when the existing popular tourist destinations genuinely become another metropolitan hub in the future.
When compared to other locations that can only afford lower-quality construction materials, a Koh Samui real estate investment is a safer decision.
More specifically, because it is such a hidden gem in Thailand tourism, a slew of real estate developers have poured money into this island paradise. Unlike less popular places, this one has the backing of a number of investors and developers.

Koh Samui real estate alternatives include well-built structures with pools and breathtaking views, as well as a minimalist flair to everything.
It's in their best interests not to scrimp on material quality because they know that the buyers of these villas, houses, and condos are seeking for a long-term investment rather than a quick buck.
5. Foreign Ownership of Property
Although some international investors may be concerned about being barred from owning property because they are not of Thai origin or are not Thai nationals, foreign ownership regulations are rather simple to handle legally.
It is how real estate businesses like Conrad Properties are still allowed to sell to international real estate investors despite Thailand's restrictions prohibiting non-Thais from purchasing direct property.
You can purchase Koh Samui land through a Thailand company you've set up, but the shareholders should be of Thai descent and the foreigner should not own more than 49 percent of shares.
The Thai Condominium Act of 1979 allows foreigners to own freehold property for 49 percent or up to nearly half the total unit space.
The civil and commercial code allows foreigners to lease a property for a 30-year period, which can be extended two consecutive times or for 90 years in total. A foreigner can also lease a land then own the property built on it, with the building itself being their sole asset in their name.
You can even have a Thai spouse acquire the property on your behalf so that you and your Thai spouse both own the Koh Samui property.
You can reach an agreement with the Thai national indicating that they own 49 percent of the property you're buying, but your name will not appear on the title deed. Only your friend has it legally.
This is why many foreigners prefer to marry rather than befriend. Even with its restrictions on foreign property buyers, Koh Samui is a very inviting area for them.
6. A Robust Rental Market
The rental market on Koh Samui is very strong, which means there is a lot of upside potential in terms of revenue generation from property leasing.
To be sure, if you're a foreign property buyer, you're officially leasing the land in order to own it for at least 30 years and up to 90 years (among other non-Thai purchasing options). However, you can still rent out the leased Thailand building.
Expect a regular stream of renters, leasers, or tenants to visit Koh Samui for a season or for the long term to enjoy the sun, sea, and beaches.
Regardless, you can recoup the value of your property over time by renting it out for long-term leases or short-term vacation deals. As previously said, Koh Samui is a developing Thai tourism destination.
The rental market is also one of the reasons why Koh Samui has a very busy property sales market. Over time, the property you purchase may pay for itself.
Koh Samui, in particular, has a robust rental market when compared to other high-growth development areas in Thailand, making it a wise investment choice for both local and foreign property investors wishing to create regular income.
Because of the great demand, the average villa rental ROI (return on investment) is often 6-8 percent NET ROI, with many owners obtaining 10 to 12 percent and some owners collecting up to 15 to 20 percent every year!
All of this is possible thanks to Airbnb and other OTAs (online travel agencies), as well as rental management services provided by real estate firms. Being a landlord of a Koh Samui property is a gift that keeps on giving!

7. Easy Accessibility to Necessities and Amenities
Everything you need may be found on Koh Samui. It's more than just a beachfront setting brimming with high-potential homes and enterprises. It also has a variety of current entertainment, dining, and shopping options.
You can go grocery shopping or enjoy the lively nightlife of the paradise-like island, which is home to luxury resorts and surprised tourists.
Certain high-potential development areas are often underdeveloped and require more time and effort to develop before they can deliver on their potential. This is not the situation on the popular island of Koh Samui.
You don't have to wait for a mall or a convenience store to be built in order to grasp the full potential of this premier tourist destination.
The island already features a number of high-quality fine dining establishments with international cuisines, as well as retail malls and grocery stores stocked with clothing and food, as well as entertainment venues like as cinemas and amusement parks.
Even so, it's still primarily undeveloped or not overdeveloped to the point where it's too late to acquire superior property that isn't costly.
Koh Samui is still in the early stages of city or island development, which makes it appealing to property purchasers while guaranteeing that everything you need is conveniently accessible. This gives it a good location with some potential for future growth.

8. Safety and Security of the Island
Koh Samui is more than simply a tourist attraction extravaganza that deserves the island's status as a must-see vacation destination. It also cherishes its citizens' safety and security.
Because of its position, Koh Samui, like other areas in Thailand, is extremely safe and secure. The crime rate is minimal, and the community is friendly. There is no xenophobia among the locals, and there is an active expatriate community.
It also features the Thai happy-go-lucky culture, which creates a soothing tropical ambience that puts you at ease whether you're a native or a guest.
Every development and town in which they are placed makes a point of providing protection in the form of security guards, gated communities, powerful locks, and even CCTV so that you can keep an eye on everything.
In comparison to other seaside places with high crime rates that require you to spend the most of your time in your cab or hotel, Koh Samui is your personal tranquil safe sanctuary.
Thievery, snatching, and burglary are uncommon on this peaceful and tranquil island, which was built in part to accommodate a large influx of tourists each season. This is to be anticipated from a premier Southeast Asian tropical resort destination.
It's so safe there that it's a welcome reprieve from the frenetic pace of life.

9. Welcoming Community and Expat Scene
The people of Koh Samui are friendly and hospitable, as opposed to xenophobic and distrustful, like in several other supposed vacation locations we won't name here.
It's because they're used to the island being a tourist hotspot. They make their money by being nice and, at the very least, amicable to numerous foreigners who come to visit or vacation there. They are not at all culture-shocked.
Another compelling feature of this premier development site is the previously mentioned vibrant expatriate community.
It's really easy to meet new acquaintances here, whether they're Thai nationals, fellow visitors, or folks from your own country. Koh Samui isn't exactly the melting pot that California or New York are, but it is full of people from all over the world.
Whether they're fellow Thais or foreign expats, the locals aren't snooty or arrogant. Furthermore, the expatriate community is always there to watch out for itself as an international family in its own right.
Even if you're merely relocating to Koh Samui to serve as landlord for a leasehold property with a spouse or a Thai firm land purchase, knowing your renters are surrounded by some of the loveliest people on the planet is reassuring.
10. Proximity to Other Popular Locations
Koh Samui is conveniently located among other great developments and popular destinations in Thailand's Land of Smiles, which encompasses the Thai mainland and nearby islands.
As a result, investing in a Koh Samui villa or condominium can serve as a successful core tourism hub, attracting both vacation rentals and permanent tenants to your high-potential property with a significant prospective upside.
To relieve tension, you can travel to Bangkok for business or to other pristine beaches in Koh Wua Talap, Koh Phangan, Koh Tao, Koh Mae Koh, Koh Taen, Ang Thong (National Marine Park), or Koh Mudsum.
As a Koh Samui resident, you may easily explore the other beautiful and resource-rich sections of Thailand while still enjoying the comforts of your home here in Koh Samui.
If you decide to stay on Koh Samui, you will have access to a plethora of amenities. You can even take a trip to other parts of Thailand, such as the Emerald Lagoon or the party island of Koh Phangan.
Koh Samui isn't far behind. Its ethical elephant home-guided tours, untamed jungle safari tours with lunch included, and full-day kayaking and snorkeling tours are already touristy in and of themselves.
Find Your Koh Samui Dream Property Today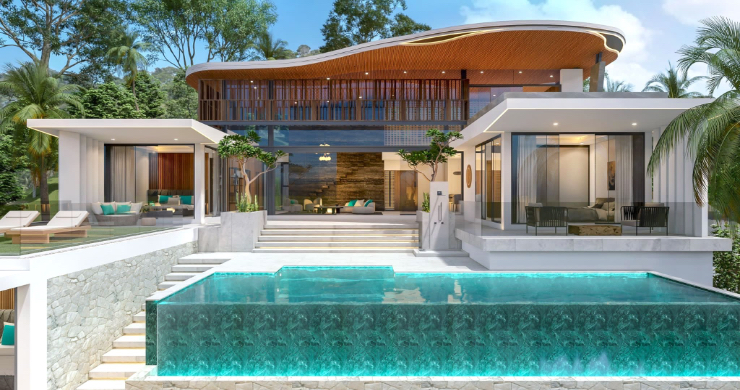 Ultra-Luxury 4 Bed Sea View Villa in Chaweng Noi
Koh Samui checks all the boxes for a high-quality location for your own villa and resort. In other words, it's the ideal setting for anyone's dream home. Not only a residential house to live in, but a property to aspire to.
When selecting a dream property on Koh Samui, you must consider the numerous considerations listed above. You're probably looking for a handy, safe, and high-value property in a location near schools, beaches, restaurants, or retail centers.
So, what are you waiting for? Get in touch with us or browse our website to find the Koh Samui property of your dreams from Conrad Villas while it's still available!