Can Foreigners Buy Luxury Property in Thailand?
The easy answer is 'yes!'
However, you cannot directly own the freehold land in your personal name if you are a foreigner. Although, the building structure can always be legally owned and registered in a foreigner's personal name, whereas the freehold Chanote land title must be registered at the land office in a Thai person or in a Limited Thai company name.
So how can I buy a Luxury Home in Thailand safely as a foreigner?
Whilst Property Ownership Laws may seem frustrating at the start, they are in fact put in place mainly to protect the real estate market from over-development, to retain the country's natural beauty, and also to keep property & land prices within easy reach of local Thai nationals.
When you look at it in this way... it sounds fair enough!
How would you feel as a first time buyer in your own country of residence if you were unable to afford to buy a property due to inflated property prices from overseas investment?
This has already become the case in many more over-developed places around the world, such as London, San Fransisco, Singapore or Hong Kong.
"Home ownership within Thailand is very high at over 80%! Compared to places such as United Kingdom at 63.5% or USA at 64.5%.
At a first glance these strict ownership laws might seem like a disappointing discovery, but if you dig a little deeper and you find various viable and reliable options for Foreigners to Purchase Luxury Property in Thailand are still available.
If your dream is to Luxury Villa in Thailand don't despair just yet...
Purchasing Luxury Real Estate in Thailand as a foreigner is still safe and possible, and and we have listed the top 5 options for you!

1. Buying a Luxury Condominium
This is one of the easiest methods for Foreigners to Buy Real Estate in Thailand.
The 1979 'Thai Condominium Act' permits foreigners to own the freehold of up to 49% of the total unit space in a Condominium project.
i.e., if there are 100 equal-sized condominiums in a project, 49 would be available for foreigners to own, with their personal name on the title deed/' Condominium Chanote' (*Note: is worth doing your due diligence and research, as some regions in Thailand for example Koh Samui have now prohibited the new building of condominium projects.)
- The remaining 51% of units would be available for Thai nationals only to purchase.
- A letter of guarantee of the "foreign quota" along with certificate of debt-free assurance (indicating there is no outstanding common area fees relating to the unit) must also be presented to the Land Department upon the transfer of property ownership.
2. Leasing a Luxury Property or Land in Thailand
Another clear-cut option available to foreigners is to lease an apartment or piece of land.
"A leasehold is effectively a pre-paid rental agreement - whereby you secure the property or land price ahead of time."
A foreigner can easily and legally lease property or land in their own personal name for an initial 30 years with the land department in Thailand - this is the maximum single tenure.
However according to the Civil and Commercial Code, the property lease can also be potentially be renewed for a further 2 consecutive times, therefore allowing a total combined leasehold period of up to 90 years.
The original 30-year lease can often be renewed, but renewal is not always enforceable (unless legally stated in a contract) by law if the land owner or their heir's refuse. Or a further lease payment is often requested. So it is worth agreeing this in writing and asking a Thai law to carefully create leasehold contract with the specific land owner in advance. A reliable Real Estate Agency and qualified local Thai lawyer can also guide you securely on this process.
In addition, a 'declaration of intention' can be made in person at the time of the purchase or shortly after the lease registration, or an Usufruct contract can be also signed instead.
In either case, a carefully-worded contract is recommended and it is always advised to consult with a professional local Thai lawyer to securely guide you through this process.
"What is a secured leasehold option?"
This is often referred to as "collective freehold"; whereby the owners of an apartment building or project also own and control the freehold of the whole project by owning shares proportionate to their investment registered in an off-sure company, which in-turn controls the main Thai freehold of the land.
(i.e. British Virgin Islands or Hong Kong - this method also often has considerable tax benefits for the project owner and purchasers, both for foreigners and Thai nationals.)
In some cases, the owner of a particularly project can sign the renewal forms of further leasehold 30-year extensions in advance, to ensure they or their heirs will renew the lease for owners after the initial 30-year lease has expired. (However these renewal forms may be subject to change in future so cannot be strictly relied upon, although it still offers added security to potential investment.)
This ownership option of 'secured leasehold' ownership is increasingly common with Luxury Apartments, where the properties are often premium-priced and minimizing risk is becomes more vital to the investment.
Depending on the structure of the Thai limited company, as mentioned previously in some cases the collective shareholders/owners of the properties in a 'secured leasehold' property project, can control the renewal process directly & collectively themselves, providing a more enhanced level security.
This process is usually structured by a managed project, where the owner & developer of the project would provide this service for you.
3. Buying Land Through a Company
There are many different Land Title Options available within the Thai Real Estate market, and it sometimes seem at the start quite confusing.
If you have heard of the term 'Chanote' or 'Chanod' - this is the main and strongest legal title deed to a freehold piece of land.
At the top of this Chanote title deed is a red rubber stamp called a 'Garuda' - if it is any other colour than red, then it is not a Chanote title deed. (Although some land titles such as Nor Sor 3 Gor can relatively easily be often upgraded into a full Chanote title deed.)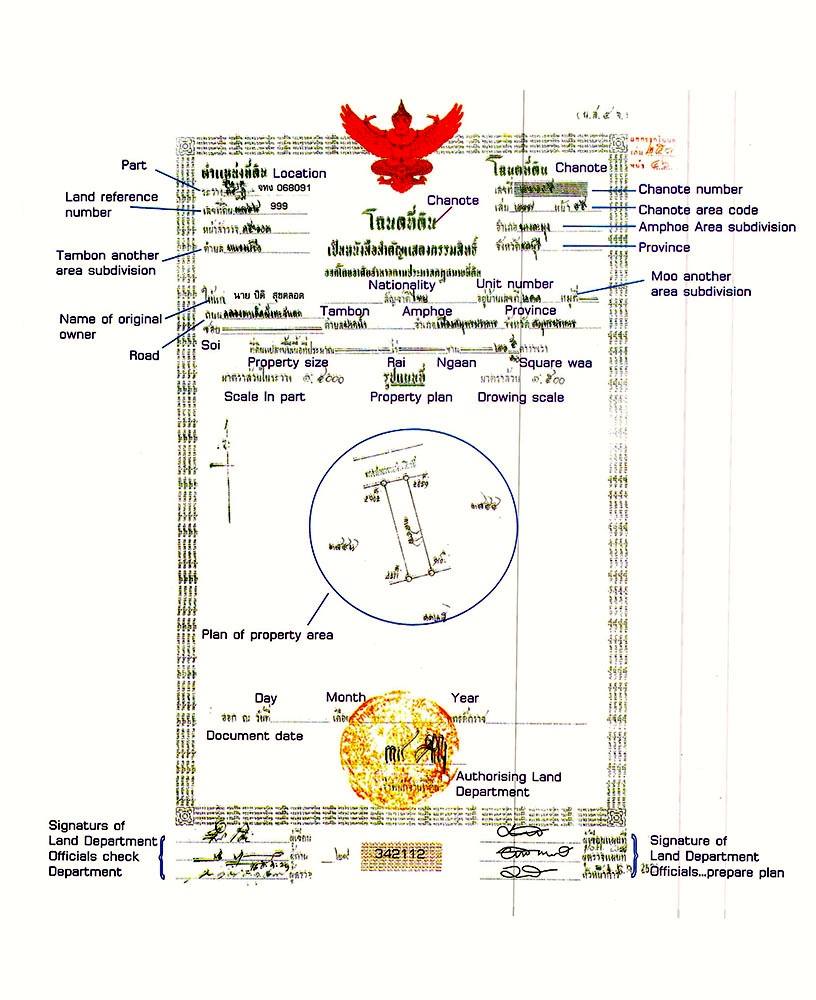 "One way to control the 'Chanote' freehold title is via a Thai Limited Company, which can legally purchase land in Thailand."
Foreigner(s) can hold up to 49% of the company's shares, the rest of which must be held by Thai juristic persons/individual.
Although the land can be owned by the Thai limited company, with the foreigner as the Managing Director & single majority shareholder can control and direct the company.
In addition, in the company 'articles of association' there can be stated a mandatory 'threshold of 75% vote approval' to ensure complete control for the majority shareholder.
Alternatively, there are other options taken to ensure full control of their property & land asset i.e. a share-transfer document may be signed afterwards - whereby Thai shareholders 'sign-back' their rights over to the foreign Director of the company.
These share transfer forms are then safely stored by the buyers' lawyer or the buyer themselves, again in order to keep complete control over the company. (A reliable Real Estate Agency and qualified local lawyer would be able to guide you legally and securely through this process.)
How can I safely set-up a Thai Limited Company as a foreinger?
If a company has been incorporated with a foreigner(s) name as a main or Managing Director(s) since the formation of the company, there must be a minimum of three total shareholders, including 2 Thai shareholders for every 1 foreigner.
Also, the transaction for the land purchase by the company shareholders can be demonstrated by a qualified accountant, then the company purchase is considered 'legitimate'. Yearly accounting and profit & loss figures from the property can also be shown in in the end-of-year accounts in order to keep the company 'active' and legal.
Issues only arise when 'nominees' are used. (i.e. Thai shareholders names with no knowledge of their name being used for a property purpose) or there has been no active and real accounting shown in the company for a period of years.
You may for example choose to have two respected Thai friends or partners used as 'real' shareholders in the formation of your Limited Thai company. This is one way to keep the company completely legitimate, whilst still securing your Luxury Property Investment
Alternatively many reliable law firms offer several property ownership solutions addressing this matter and can help to assist or guide you through the process securely.
What if I already own a Thai Limited Company?
If you already own a Thai Limited Company or are purchasing a property for rental investment, you may choose to have your Thai partner or wife, or Thai staff (i.e., a Villa manager) as real Thai shareholders within the company.
In this way you can show legitimate 'real' shareholders and ongoing activity in the yearly accounts of the company and therefore it is no longer a 'sleeping company' after the initial purchase of the land but carries on being an 'active company' in terms of its accounts, and can be considered legitimate in its' operations from a legal-perspective.
In all these cases however, it is strongly advised that you seek the advice of a reliable local Thai lawyer to outline your potential ownership options as foreigner in detail and handle this while process for you to ensure a smooth and safe transaction.
(*Note: a qualified Thai lawyer can also set-up a lease or mortgage on the land back to the foreigner's personal name from the Thai Thai company controlling that controls the freehold of the land, thus ensuring an enhanced protection.
Thus the land with a lease contract attached cannot commercially or easily be sold with an ongoing lease still registered, as there is effectively 'debt' on the land, which would need to be cleared/sold before the asset could be transacted.

4. BOI Investment
This unique type of Property Ownership Option in Thailand is more uncommon for a residential purchase, but it is still possible option for investors of Luxury Villas for Sale and Resorts for sale in Thailand.
The 'Board of Investment' in Thailand allows foreign investors to buy and own freehold land up to 1 rai (1600 square meters) in their own personal name, under section 96 of the 1999 Land Code Amendment Act. However, there is a strict assessment procedure to qualify for this type of BOI investment options.
For example, an initial investment of 40 million Thai baht is required at the point-of-purchase, on the additional condition that the land is used for residential purposes only or can be claimed of significant benefit to the country. i.e., providing jobs for the area.
This BOI investment must be specified in assets or government bonds deemed beneficial to the Thai economy. It is also important to also note this type of BOI ownership is not transferable by inheritance law and is therefore limited only to the lifetime of the specific foreign owner of the land & property.
5. Foreign Husband & Thai Spouse
A foreigner can legally Purchase Land for Sale in Thailand if he or she is married to a Thai national. This may sound obvious, but it is certainly not something to rush into - just like overseas investment, it is recommended you take your time to get to know and trust your Thai partner before putting your Luxury Property asset in their name.
There are the following limitations that can be employed:
- The non-Thai spouse needs to state that they have no rights on the land; essentially waiving their right to claim the property. (Therefore this option is only really viable for long-term partners with children, shared funds and complete trust.)
- The land purchased by a foreigner cannot be directly registered in their personal name but will be in the name of their Thai spouse.


 - A married couple can also be asked to sign a declaration at the Land Department stating that funds used are the separate property of the Thai spouse. Issues can naturally arise during a divorce case.



- Proving the land is marital property can prove difficult, hence a reliable lawyer and a carefully drafted prenuptial agreement may help to minimize risk to a non-Thai spouse.

Summary
In conclusion there are many different ways for Foreigners to Buy Real Estate in Thailand, but these restrictions are for the security of the property market and purchasers too.
If your dream is to own your own Luxury Property in Thailand, please seek the advice of a reliable Real Estate Agency and a professional and qualified local Thai lawyer.
Purchasing Luxury Property in Thailand as a foreigner is certainly possible. Feel free to explore our wide range of Luxury Villas for Sale in Koh Samui, Phuket, Koh Phangan, Hua Hin, Chiang Mai, Bangkok & Bali.
*For further assistance on Luxury Real Estate for Sale in Thailand please see our dedicated Buyer's Guide or for other queries on Thailand Luxury Property Investment, feel free to Contact Us