Thailand has earned the nickname 'The Land of Smiles' for good reason, thanks to Thais' carefree and happy disposition. What makes a Thai person so happy and good humoured? It actually has a lot to do with the place itself. Thailand has a carefree, easy going vibe that is easy to transition to. Just ask the many expatriates who have found their dream lifestyle here in Thailand.
How to Find the Best Property for Sale in Thailand
Non-Thai citizens must follow strict guidelines in order to "own" property in Thailand. This is due to the country's prohibition on foreigners and non-Thai residents purchasing Thailand property in their own name.
It is in reality, Thai law. Thai nationals only, and not "foreigners," can buy and sell houses. To sell property as a non-Thai, you must negotiate around various legal loopholes.
Marry a Thai National to Buy Thai Property: The most common and simplest option is to have your Thai spouse—husband or wife—purchase it for you.
Marry a Thai citizen so that you may place the property in their name, but you will both own it as husband and wife.
A 30-Year Lease on Your Villa: You may "own" a Thailand villa by leasing it for 30 years and then renewing it twice. Although on a leasehold basis, you virtually own the villa.
These are known as 30+30+30 leases since you may lease it for 30 years at a time three times, for a total of 90 years. As long as you renew every time, it's almost a lifelong lease.
Invest Money in Thailand for Property Ownership: Become an investor in Thailand, a growing Southeast Asian Economic Tiger. You must put around 40 million baht into the country, which equates to approximately $1.1 million, based on the present currency rate.
Set Up a Limited, 51 Percent Thai-Owned Company: It is not enough to simply establish a limited company as a vehicle to purchase Thailand villas on your behalf.
The company in question should be majority owned by Thai citizens, or at least 51% of the total. Make it 61 percent to be safe and to make it less suspicious that it was established specifically to buy real estate.
Now, let's explore about the top villas for sale in Thailand, as recommended by Conrad Properties.
1. Stunning 6 Bed Ocean View residence in Choeng Mon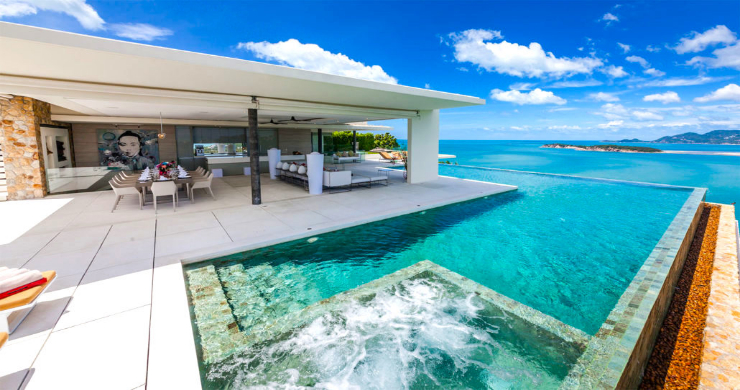 This Koh Samui Luxury Villa with 6 Bedrooms in Choeng Mon has many highlights, including 6 bathrooms (1 in each bedroom), a fully equipped western kitchen for all your culinary requirements, and a several entertainment areas.
This upscale private ocean view villa is located on a hillside featuring its own private pool, gym and exercise area, as well as a private media room. The Chanote Title also includes 1,776 square metres of land, secure car parking, a private wine cellar, and expansive rooftop patio.
2. Sumptuous 3-4 Bed Sea-view Pool Villas in Chaweng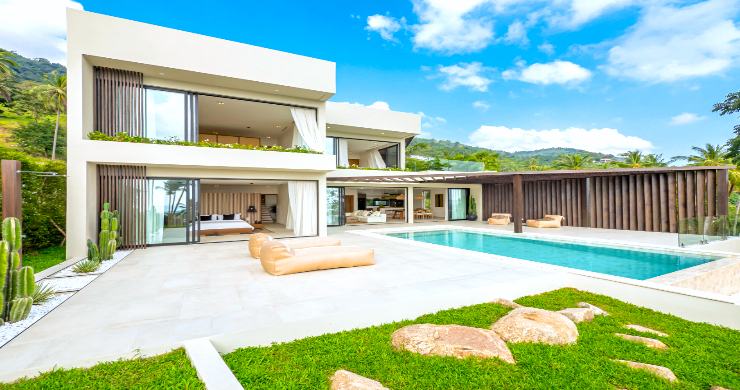 These sea-view Koh Samui Luxury Villas for Sale (3-4 bedrooms in Chaweng) are part of a collection of stylish homes ranging from three to four bedrooms and were developed by an award-winning architect.
The Zen-style beach houses has an infinity-edge swimming pool (that resembles the ocean), an open-air roof-bar patio, soaking tubs and rain showers, The stylish rustic design has beautiful Acacia hardwood accents, and there is a private parking space. Sizes range from 600 to 820 square metres, and each structure is around 540 square meters.
3. Outstanding Cape Yamu 5-Bed Luxury Beachfront Villa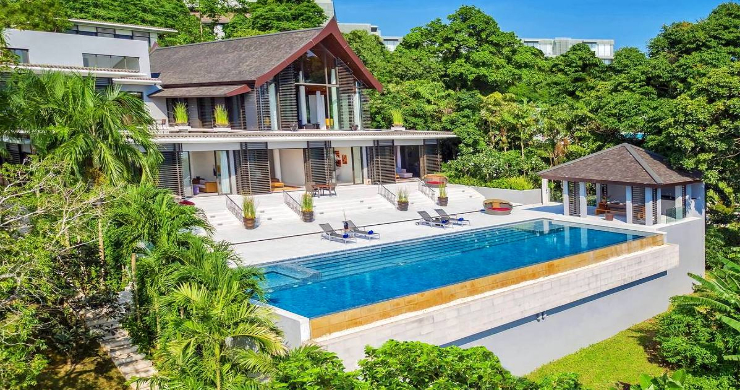 The 5 bedroom Cape Yamu Beachfront Villas for Sale offer a freehold ownership Chanote title property with numerous communal facilities. It includes the owner's clubhouse with a café, gym, spa area, and tennis courts.
The villa features high-quality appliances and fixtures, as well as a cutting-edge modern kitchen for all of your cooking requirements. There is also an oceanfront infinity pool that reaches all the way to the horizon, and direct beach access.
4. Stunning 3-4 Bed Luxury Sea View Villas in Bangpor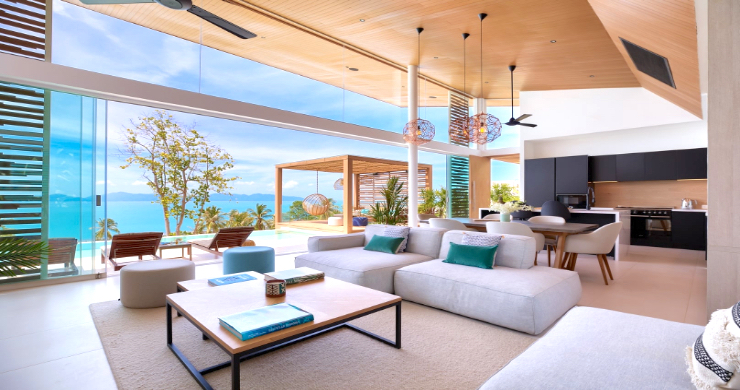 The stunning Koh Samui luxury villas is a collection of about 30 villas at Bangpor. This Chanote title has freehold ownership.
It is situated the exclusive village of Bangpor Hills, offering owners a peaceful luxury lifestyle. The air-conditioned villas offer panoramic 180° ocean views as well as a grand infinity pools. The villas boast fully equipped modern kitchens. Each villa has land size of 750 square metres.
5. Luxury 3 Bedroom Bali Style Pool Villa in Maenam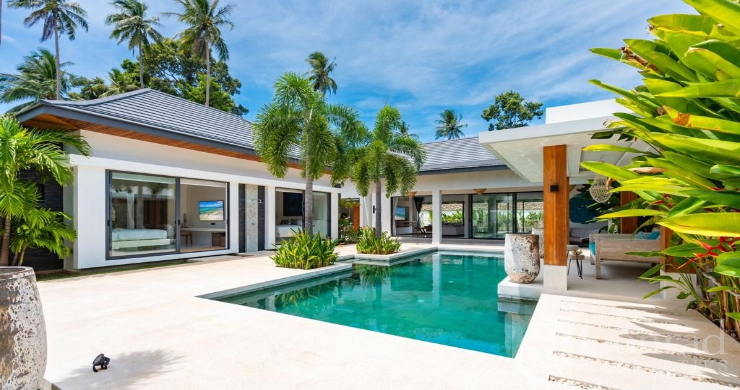 This 3-bedroom, 4-bathroom luxury Koh Samui pool villa in Maenam has a Balinese pool villa inspired design. It has a contemporary western kitchen breakfast bar and island area, and soaring cathedral-style ceilings.
It has imported high-end Balinese materials such as its double-layer brick walls and faux-straw-covered pool-sala. The Chanote title also includes a private deep well, a private garage, and a rear garden BBQ space.
6. Spectacular 5-Bed Designer Luxury Villa in Bangpor
This Koh Samui Luxury Villa Property in Bangpor houses a collection of stylish 5-bedroom, 5-bathroom luxury pool villas. Located in the Bangpor Hills, villas boast 270° ocean views.
They have sleek, clean lines and modern design and are just 800 metres away from the nearest beaches. The villas themselves enjoy barbecue grills, 60-inch 3DTV systems, and an impressive L-shaped infinity-edge pool. Villas have spacious outdoor covered pool-salas, luxury bedrooms, tropical landscaping, and a built living area measuring 650 square metres.
7. Chic Minimal Modern 4-Bed Luxury Villa in Plai Laem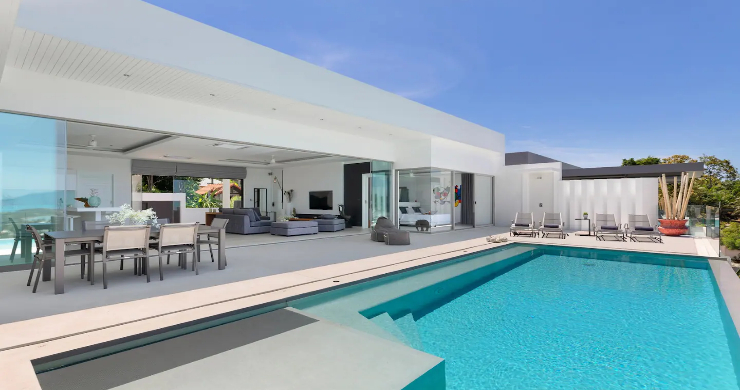 This four bedroom, four bathroom Koh Samui Luxury Villa for Sale, is situated Plai Laem. This freehold ownership sea-view property has an outdoor shower space, a CCTV security system, and stylish walled-in design.
Plai Laem Hills is a desirable residential area with this villa a prime real estate asseet filled with high-end appliances and quality furnishings. The property area measures 650 square metres.
8. Marina 4 Bed Penthouse with Yacht Garage in Phuket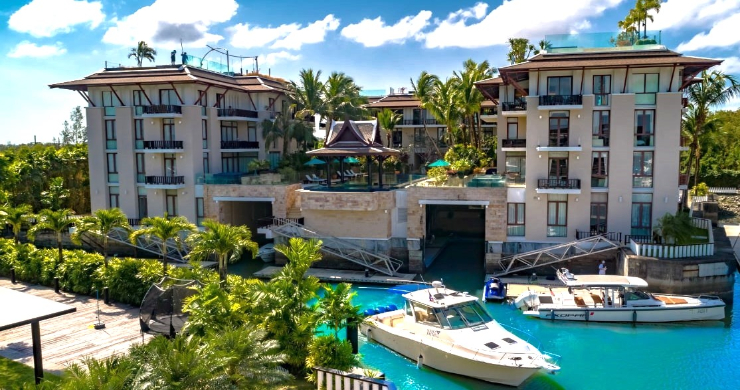 This Phuket Marina Apartment for Sale boasts 6-bathroom, 4-bedroom luxury at Royal Phuket Marina.
Boasting ocean views, it has open-plan living, a media and games area and a private Jacuzzi. Every bedroom has its own rich colour palette and spa-inspired deep-soaking bathtub. It features a modern western kitchen, top-end furnishings, and even its own private boat garage. This leasehold apartment has a living area of 872 square metres.
9. Palatial Luxury 6-Bed Sea-view Villa in Cape Panwa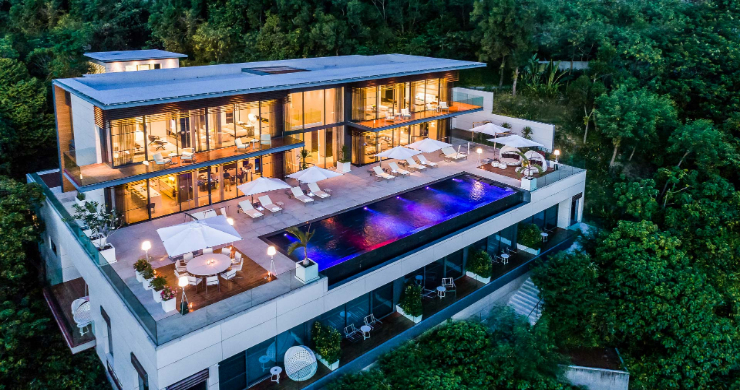 Have you ever wanted to live in a palace? This is your opportunity in this lavish pool villa overlooking Ao Yon Bay.
It is arguably the finest seaside property for sale in Phuket's Cape Panwa. This stunning residence has a private gym, parking, a private elevator, maids' quarters, a steam and sauna room, an outdoor Jacuzzi as well as a huge pool terrace and sundeck.
The Chanote title comprises a 3,300 square metre fully equipped building fitted out to the very highest standard.
10. Exclusive: Four Seasons Beachfront Villa in Koh Samui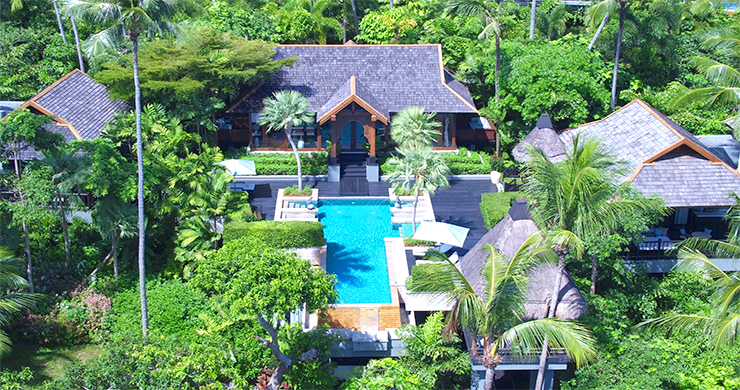 The Four Seasons Beachfront Villa in Laem Yai, Koh Samui has 3 bedrooms and located in the exclusive Four Seasons Estates.It features high-end design and furnishings throughout.
There is a 24/7 reception and concierge, 24-hour security, water sports activities, fully equipped gym, flood-lit tennis courts, and a beach club.
11. Exclusive Beachfront 5-7 Bed Luxury Villa in Laem Sor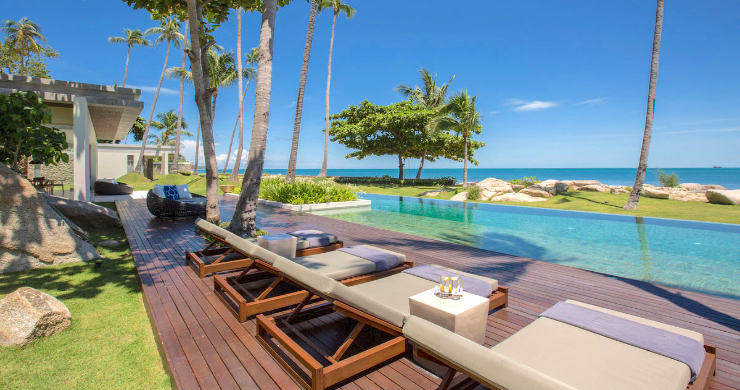 The Beachfront Villa for Sale in Laem Sor, Koh Samui is an exclusive villa estate property with 7 bedrooms and 8 baths located immediately on Laem Sor's beachfront.
It comprises a mezzanine living room, indoor and outdoor dining spaces, manicured gardens, a private gym, an office or study media room, and, car parking with a total land size of 2,880 square metres..
12. Beautiful 5-Bedroom Luxury Beachfront Villa in Lipa Noi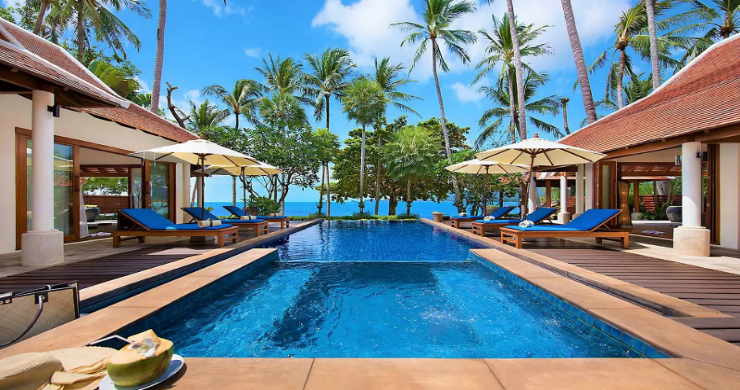 A 5-bedroom, 5-bathroom Koh Samui luxury beachfront villa, this Lipa Noi property features top notch facilities and stylish villa interior design. The owner will enjoy attractive manicured lawns, a white sandy beachfront and a swimming pool. It comprises six separate pavilion structures. It comes with Chanote title freehold ownership.
13. Beachfront 5 Bed Luxury Villa for Sale in Koh Phangan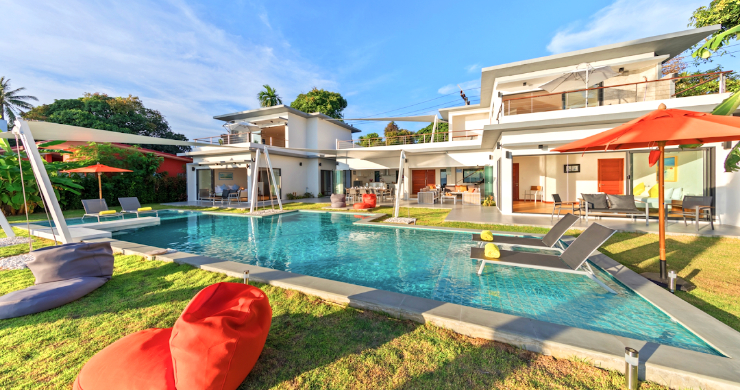 This Beachfront Villa for Sale in Koh Phangan was just constructed in 2018. It has an expansive 700 square metres of land area with its own parking lot, beachside gardens, and enjoys sweeping sea-view balconies.
This 5-bedroom, 6-bathroom residence houses a master bedroom with bathtub, a fully equipped western kitchen with built-in oven, gas burner, extractor, and a large patio and sundeck. All the bedrooms have modern en-suite bathrooms.
14. Ultra-Luxury Headland Villas at Cape Yamu, Phuket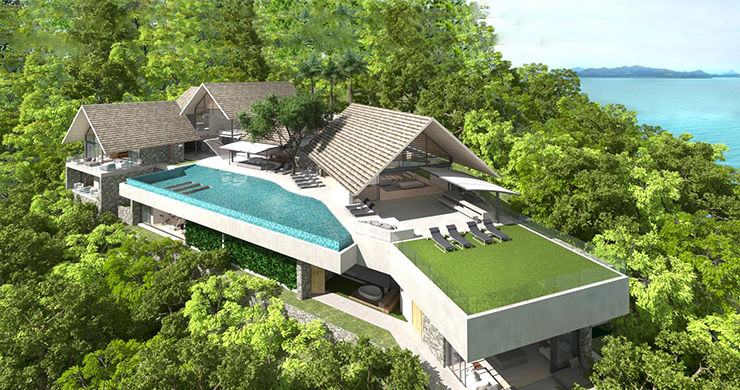 The Headland Luxury Villas in Cape Yamu, Phuket is the pinnacle of ultra-luxury in many different ways. Living square spans 2,000 to 2,500 square metres and each boasts a pool, as well as sharing a massive infinity-edge pool.
Each pool villa has a luxury fitted kitchen, 4-6 bedrooms, state-of-the-art smart tech, and glorious ocean-view panoramas.
15. Sumptuous Ultra-Luxury Oceanfront Villa in Phuket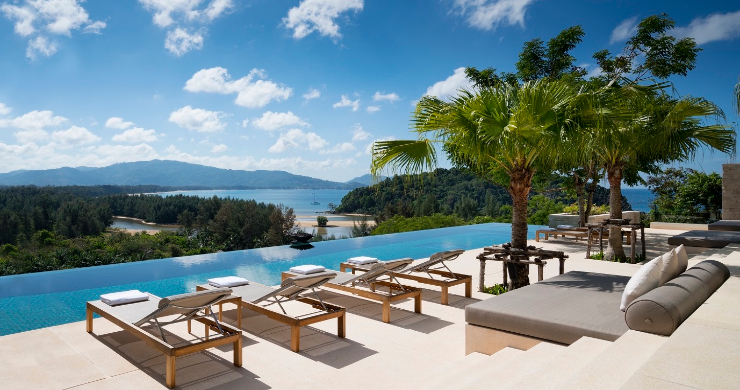 This Phuket Luxury Oceanfront Villa for Sale has an imposing land size of 2,155 square metres and buildings measuring 1,894.40 square metres. The ain offers living room space has striking cathedral ceilings, offering spectacular views of the pristine ocean.
There is an integrated western-style kitchen plus dining room, a multipurpose space for a media and study room, and separate maids' quarters. Enjoying a desirable location on Phuket's exclusive west coast, there is access to 5-star resort services, quality, and facilities.
16. Ultra-Modern 5 Bedroom Luxury Pool Villa in Phuket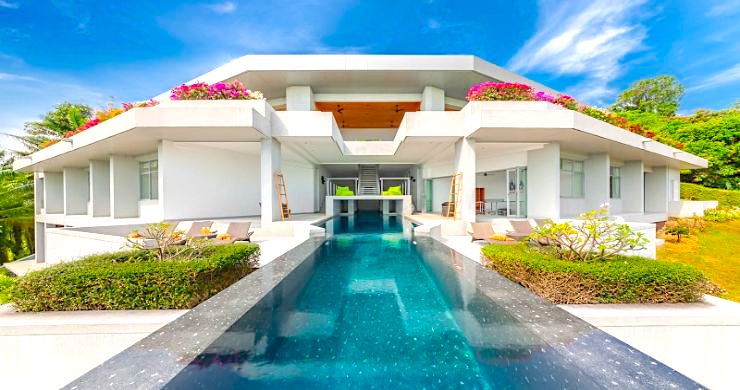 What's so ultra-modern about this Phuket 5 bedroom, 4 bathroom luxury pool villa? Let us highlight the many different ways. Let's start with the abundant modern features and appliances. It offers high-speed Internet, 55-inch TV (True Visions), a games and recreational room, and more.
On top of all that, there are two master bedrooms with king-sized beds and powder rooms plus two guest bedrooms. It also has a BBQ and grill area, 24-hour security, and covered parking.
17. Ultra-Luxury Beachfront Villas for Sale in Maenam
This is another ultra-luxury beachfront villa in Maenam this time. It boasts a treasure trove of first-class residential amenities. As well as chic lounging and dining space and a modern kitchen, it features a playroom plus kid bunk beds, landscaped lawns and gardens, a spacious covered terrace, outside shower areas, a fully equipped gym and underground parking.
18. Sumptuous 3 Bed Beachfront Villa for Sale in Bangpor
This 3-bedroom luxury beachfront villa in Bangpor occupies a fine location close to pristine Bangpor Beach. It comes complete with a high-end fully equipped kitchen, full A/C, a stylish lounge area with sofas, and a grand dining table.
19. Luxury 3-Bed Sea-view Villa in Koh Phangan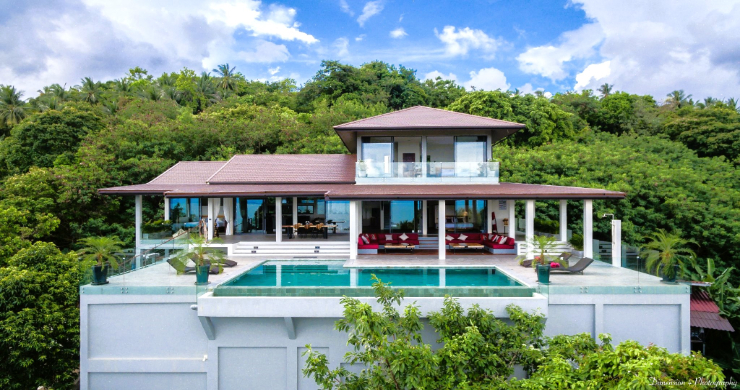 Featuring 3 bedrooms and 4 bathrooms, this luxury villa for sale in Koh Pangan has lots of plus points such as the elegant interiorising featurings natural and modern materials.
The fully fitted kitchen has a sleek gray design with built-in oven, microwave, and hob. Every part of this upscale property has high-quality furnishings and decor with green accents from the landscaped garden area. It boasts a large terrace of 160 square metres.
20. New Bali 4-Bedroom Luxury Villa in Bophut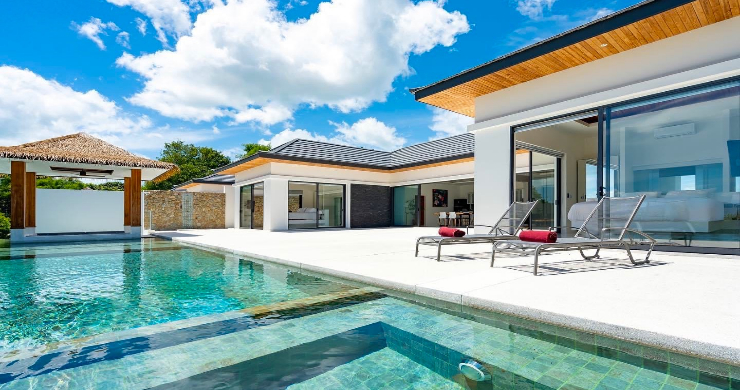 Last but not least is this Koh Samui Bali-style sea-view villa in Bophut. It's a feature-rich property with a contemporary design that includes a large infinity pool and luxe en-suite bedrooms with outdoor baths and rain showers.
Fully equipped throughout, there is an outdoor entertaining area with a poolside sala area, huge sundeck and terrace, and breath-taking views of the adjacent Elephant Sanctuary. The Bophut Hillside area is highly desirable area, ensuring a sound investment.
Summary
We hope you now understand how to find the best homes for sale in Thailand. As one of the world's most unique places, you'll always have abundant Thailand property options.
With rich, history, unique culture and a balmy tropical climate to boot, Thailand is deservedly a highly desirable destination for real-estate investment as well as for a fulfilling expat lifestyle.
There's really a lot to like in this wonderful country. Search for the best prices of villas and vacation homes in Thailand on Conrad Villas today!