Thailand is the land of smiles in more ways than one. It is undeniably a tourism hotspot, whether you wish to visit the beaches of Koh Samui or Phuket, experience the Pattaya nightlife, or desire for the suite life in capital Bangkok.
It also offers medical and dental tourism thanks to its high-quality yet affordable healthcare, saving foreign nationals money on medical procedures even after accounting for travel costs.
If all of that appeals to you and makes you want to live in Thailand, keep reading on, because we highlight the top ten ultra-luxury residences for sale in Thailand.
The Right Option for Property Ownership
Non-Thai citizens have fewer alternatives for property ownership since Thailand law prohibits foreigners from owning properties directly. However, there are ways to buy property.
As a foreigner, you must respect Thai property rules and apply the following methods to lawfully own a property in Thailand in your name (or the name of someone close to you).
⦁
Marry a Thai National to Buy Thai Property: A non-Thai citizen may buy property in Thailand in the name of their Thai spouse (wife or husband). They can legally own the property as a couple, with the Thai spouse acquiring it on their behalf.
⦁
Invest Money in Thailand for Property Ownership: You can also get property ownership by investing in the country. To be more clear, if you can offer 40 million baht ($1,115,000) for investment in the country, you can own a piece of Thai property.
⦁
A 30-Year Lease on Your Home: A Thai home, such as a villa or a residence, can be leased for a period of 30 years. The lease can then be renewed twice. They are known as 30 + 30 + 30 leases, and allow you to hold a property for up to 90 years.
⦁
Set Up a Limited Company That's at Least 51 Percent Thai-Owned: A limited business may purchase property in your name. It does, however, come with the condition that it is a limited business that is more than 50% Thai-owned. It can be at least 51 percent Thai-owned, but to be safe, it should be 61 percent Thai-owned.
Let's explore your real estate options now. We've compiled a list of high-quality end villas to consider: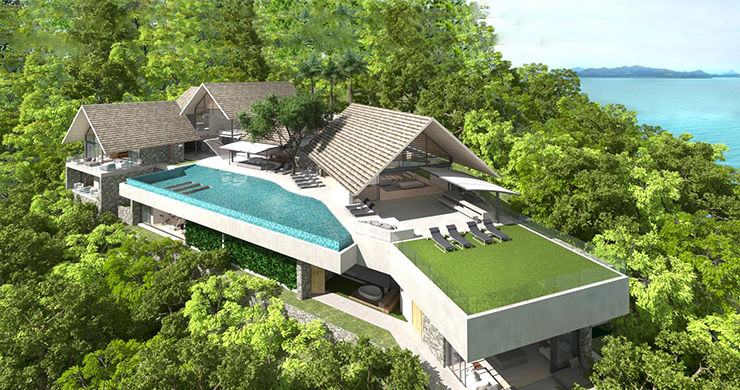 The Ultra-Luxury Headland Villas is a high-end Phuket real estate development with a Chanote title and available with freehold or leasehold ownership. It has 4 to 6 bedrooms in ultra-luxury pool villas. In short it's a collection of luxury villas rather than a single home.
Naturally, it has stunning ocean views, befittng any great Phuket home. ue to its famous headland position, it is regarded as the pinnacle of real estate projects. It's located at The Headland at Cape Yamu.
If you're a savvy investor, you'll want to include villas from this property in your portfolio because it's a highly desirable private waterside cluster with a seafront position. Furthermore, it is located on Phuket's peaceful West Coast.
The villas feature cutting-edge smart technology, finished structures, soaring wooden cathedral ceilings, and spacious private sun terraces. A huge infinity swimming pool appears to be connected to the sea via unique optical illusion.
It houses exquisite en-suite bathrooms, a big garden a fully equipped luxury fitted kitchen, and plenty of parking. Each villa is 2,000 to 2,500 square metres in size, with the total land area ranging from 4,205 to 5,846 square metres.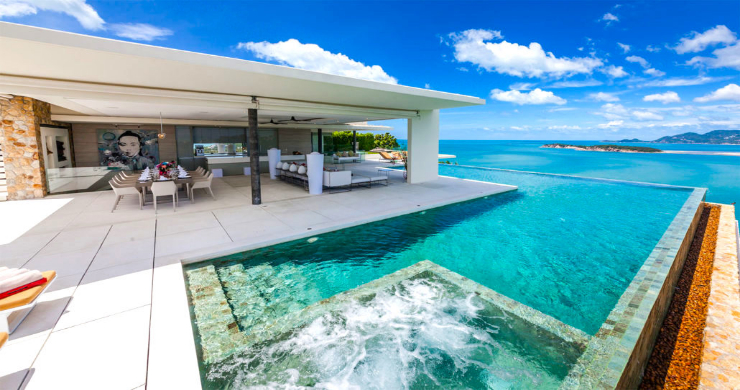 Choeng Mon Ocean-View Residence: This 6-bedroom, 6-bathroom luxury property. has a breathtaking panoramic view of the ocean worthy of a National Geographic cover. The western kitchen is well equipped.
This spectacular Koh Samui property, nestles on a hill among upscale residences, with palatial elegance and refinement. It's an A-List home from the inside out, as proven by its private wine cellar and expansive rooftop patio perched over the verdant grounds
It also boasts its own private pool.
It also has a gym and exercise facility for residents who wish to stay active. It also comes with a private cinema room where you can watch your favorite films.
This Chanote title property also comes with its own car parking and land measuring 1,776 square metres. The building itself measures 2,010 square metres.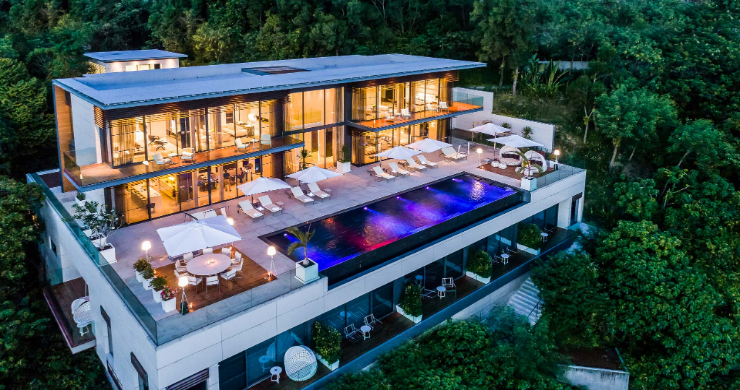 The Oceanfront Cape Panwa Villa has a lot going for it, from the beautiful pool that overlooks Ao Yon Bay to the 6 opulent bedrooms and 7 bathrooms . The open-plan living rooms have also been nicely crafted, and there are two fully equipped designer kitchens.
There's also the infinity pool, which is around 20 metres long. The oceanfront villa has been completely furnished to an extraordinary standard.
It also has an outdoor Jacuzzi where you can soothe your troubles away on an expansive pool terrace that is relaxing and stress-relieving in its own right, It has outdoor dining a patio, and a big sundeck for sunbathing.
There is private parking, a private lift, maids' quarters, a steam and sauna area, a private gym, and huge dining and living rooms. The Chanote title with freehold tenure includes a 3,300 square metre residence on a 3,000 square metre plot of land.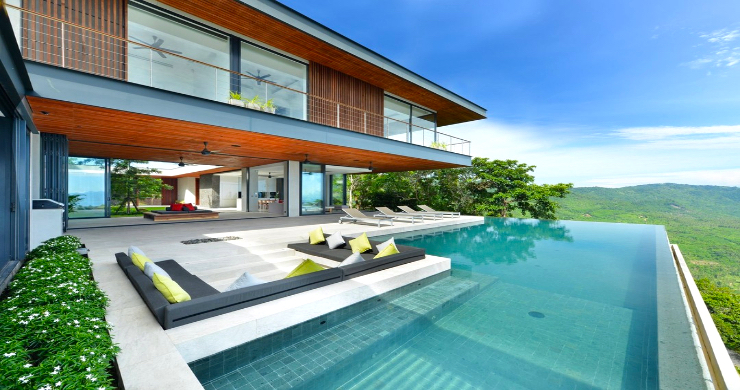 Designer Villa for Sale in Bophut, The inclusion on this list of best Thailand homes is not just due to its 6 bedrooms and 7 bathrooms, or spectacular ocean views, it's a Koh Samui villa that seamlessly blends in with nature.
It has a natural, organic appearance. It is surrounded by nature, including lush foliage, trees, hedges, as well as several wooden buildings, a green roof terrace, and an interior patio garden.
As a result, it provides a revitalising ambience to anyone escaping urban life. It has all of the modern facilities that any city dweller could need, such as a fully equipped kitchen and a spacious private pool.
It houses private staff quarters, a leisure room, a cinema room, a patio garden and an outdoor sunken lounge. The villa is 1,400 square metres in size, while the property as a whole measures 1,845 square meters.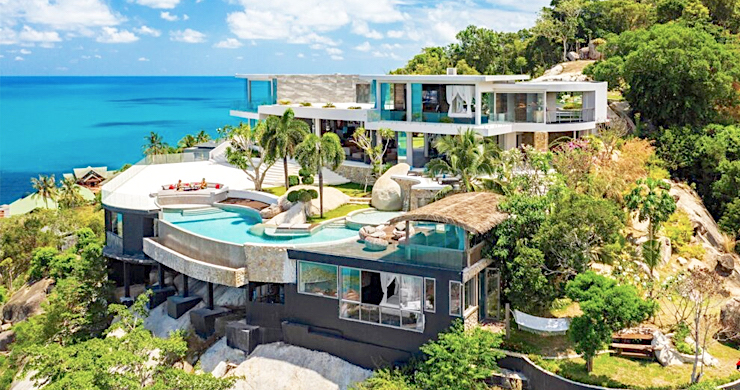 The Palatial Chaweng Noi Peak Villa is a highly-desirable Thai property since it is a spectacular design masterpiece. What exactly do we mean? It embodies the concept of ultra-luxury with its sophisticated 5-bedroom, 6-bathroom design perched atop Chaweng Noi's peak.
It has a spectacular 360° view of Chaweng Bay, making it relatively unusual among beachside Thai villas with their own swimming pools. This monumental home provides top to bottom luxury hillside living just set back from the beach.
It also offers many firsts and unique benefits: a sunken pool-sala seating area, large freeform infinity-edge pool, flawless finishes and modern chic interior design. There is a 2-bedroom lower-level apartment.
In addition, the villa has a landscaped manicured garden, a 10-seater wooden dining table, fully equipped designer kitchen, and wall-to-wall sliding glass doors.
The Chanote title with freehold tenure option has a building size of 1,700 square metres and a land area of 2,600 square metres.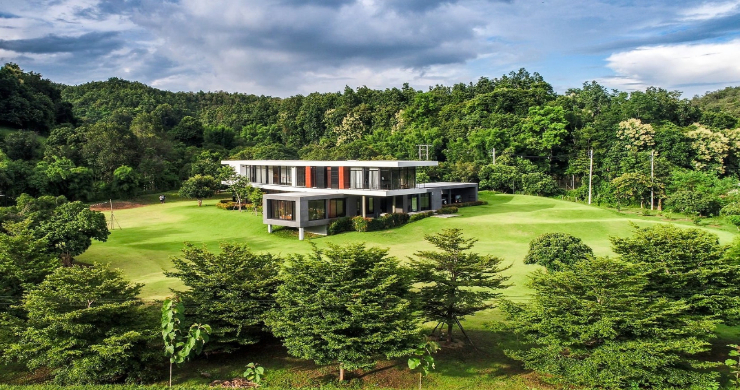 What's not to love about the Sleek Designer Chiang Mai Luxury Villa? This Chanote title freehold Tenure is situated in Chiang Mai province's Hang Dong District. t is a tranquil upscale location offering maximum privacy and suburban calm.
It means you get easy access to schools, shopping centres and only a 30-minute drive from the international airport. It's just a 20 minute away drive from the city too. This designer villa features 4 bedrooms and 8 bathrooms.
'It has a modern minimalist design. Remember to get rid of everything that doesn't bring you joy and save anything that does for a clutter-free lifestyle!
The estate features private parking, high-quality built-in furnishings, landscaped gardens and a multipurpose courtyard. There's also the large open-plan living to look forward to.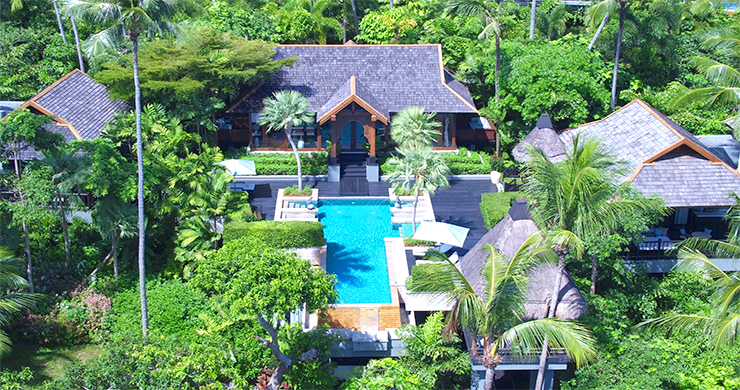 The Four Seasons Villas in Koh Samui is well worth viewing. They are exquisite beachside residences brimming with splendor. Each villa features three bedrooms, four bathrooms, and pool access. They are also built and designed to the highest quality.
They boast award-winning architecture and a private pool. Furthermore, they include high-quality furniture that exemplify refinement. We are pleased to present this collection of villas at Koh Samui's northern headland of Laem Yai.
They won the "5-Star Award" at the Asia Pacific Property Awards of 2009 and "Best Villa Development in Koh Samui" in the 2008 Thailand Property Awards.
Each unit als has its own private parking space, a fully equipped western kitchen, and full access to hotel services. Furthermore, owners can own them for a year or through a leasing arrangement. They are available as either freehold or leasehold. The total land area of each property is 1,059 square meters.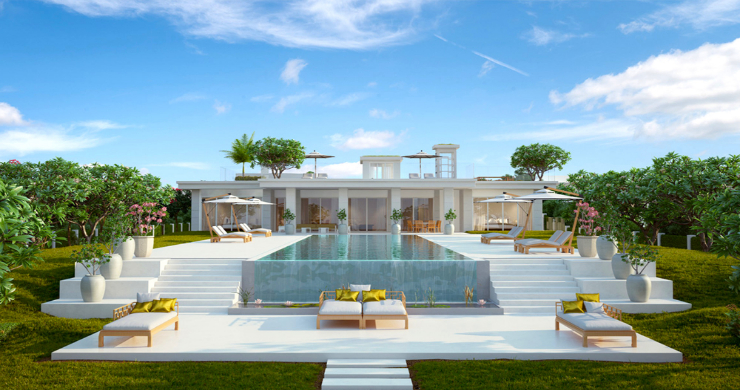 The Hua Hin Luxury Beachfront Villa is a spectacular development with 6 bedrooms and 6 bathrooms. It is notably positioned within Hua Hin and the Gulf of Thailand on pristine Khao Tao Beach. Naturally, it provides sweeping ocean views.
Its design is off-plan and adaptable, and is split across three floors. It has tropical manicured grounds and custom furniture. It's a 3-hour journey from Bangkok, a 15-minute drive from Hua Hin, and is being built on land directly owned by the Thai monarchy for generations.
Aside from once being the property of royals, it also comes with its own large oceanfront infinity pool measuring 25 metres. The master apartment houses 2 en-suite bedrooms. There are a further 4 double guest bedrooms for good measure.
It also includes a 4-car garage, two kitchens with a rooftop pantry area, two elevators, maids' quarters, a cinema room, spa, private fitness room and laundry. It boasts luxury marble flooring, a magnificently designed courtyard entrance, a koi pond, rooftop garden sea view dining and high-quality finishes throughout.
The villa measures 2,600 square metres across a land size of 3,200 square metres.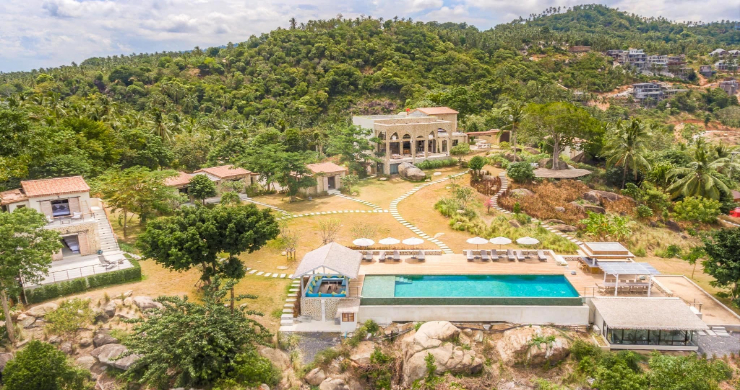 The Chaweng Noi or Koh Samui Ultra-Luxury Villa is a magnificent estate houses no less than 9 bedrooms and 10 bathrooms along with a sweeping ocean view of picturesque Chaweng Noi.
It is strategically located in Chaweng, assuring complete privacy and beautiful panoramic sea views. Coral Cave beach, schools, hospitals and other facilities are all within a 5-minute drive.
The villa is notable for its Mediterranean architecture. The recreation room has high-speed Internet, a pool table and more.
There is poolside dining options thanks to its Pool-Sala as well as indoor dining possibilities. The residence features a spacious open-plan living area on top of the large private swimming pool. It's also located in a gated community and comes with private covered parking.
The villa itself has a floor area of 740 square meters but it's situated across an expansive 12,000 square metres of land. It's a Chanote title with freehold tenure.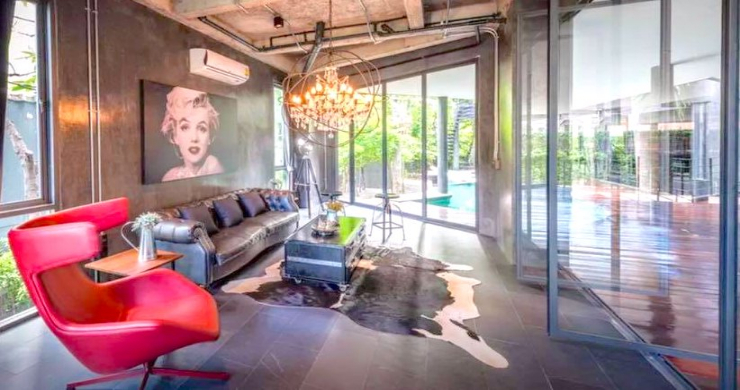 Last but not least is this freehold tenure Bangkok Villa for Sale. This 6-bedroom, 6-bathroom urban-style home is located in the heart of the capital,.
It has an urban style for modern cosmopolitan living without the normal drawbacks, such as more constrained living space and a lack of leisure alternatives indoors to compensate for the limited space. It enjoys 1,000 square metres of land.
This property has fully furnished interiors and a strategic location that allows for quick access to everything, including schools, shops, museums, parks, and airport.
It also features its own private courtyard and patio, which is surrounded by a beautiful garden. The home has a rustic design and décor that provides a nice complimentary contrast to Bangkok's urban jungle.
It's a short walk to the vibrant K village on Sukhumvit Soi 26. You also have access to Emporium, Em Quartier, and Prompong BTS Skytrain.
Conclusion
The Kingdom of Thailand is truly the Pearl of the Orient. Why? Its cities are progressive, combining western modernism with an eastern twist.
Thai properties are also a fusion of East meets West. It is a country rich in history, and culture and Thailand's nightlife is renowned. It truly is Paradise Found.
Visit Luxury Property for Sale in Thailand to browse all our luxury properties for sale in Thailand.